Space Saving Accessories
Utilizing a laptop's crammed keyboard can be less than efficient, especially if you have notebooks or textbooks laying out in front of you. A wireless keyboard and mouse allows you to find a comfortable and versatile position to complete your work.
When I transitioned to work and school from home, a wireless keyboard and mouse were the first two things I got. I bought the featured rechargeable keyboard and mouse set from Amazon, and was amazed at the usage I've gotten from both the mouse and keyboard, straight out of the box. I was able to use both devices without charging them for nearly two months, and I still haven't had to even charge the keyboard yet! The sleek design makes them easy to fit anywhere without taking up space.


Product Info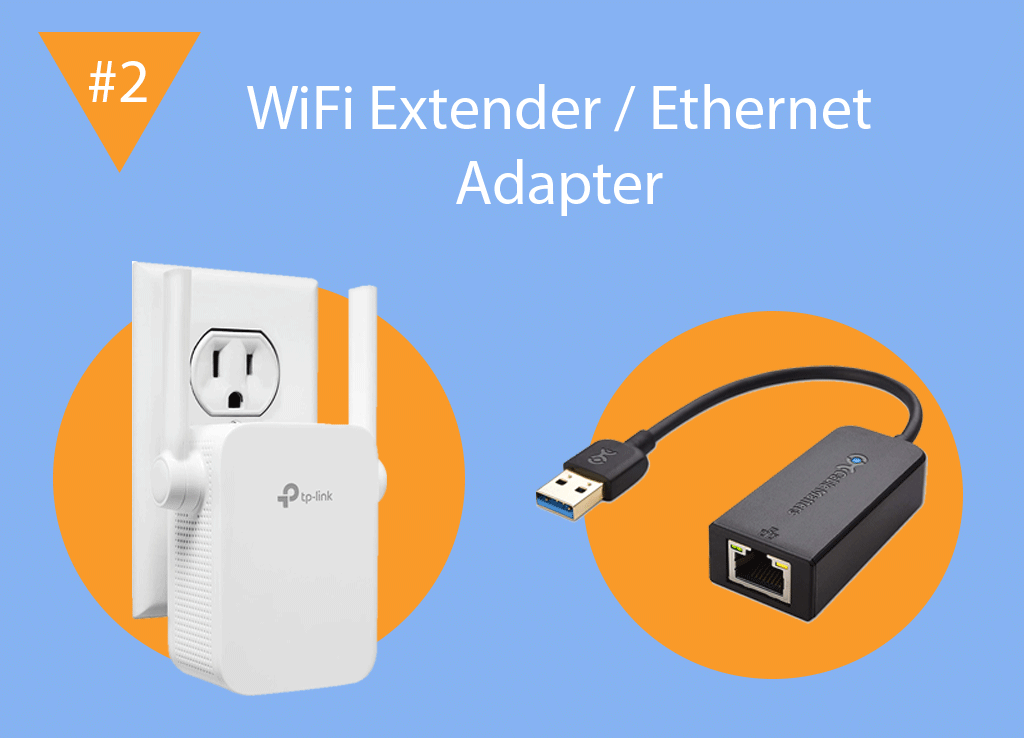 WiFi Extender


Ethernet Adapter

Boost your Internet Speed
If you are sharing internet bandwidth with others at home, a wifi extender and/or an ethernet adapter will save you the stress of being disconnected from the internet because of a weak signal, or bandwidth usage.
Even in an apartment, your wifi can struggle to maintain a stable signal. I use a TP-Link brand WiFi extender and was pleasantly surprised at how simple it was to set up. Wifi extenders for personal use, on average run around $20 to $50. The price relates to the square footage they cover.
A direct connection to your router with an ethernet cable, an ethernet adapter lets you take advantage of a stronger, uninterrupted connection to your internet service. Most USB to ethernet adapters are even less than $20!
Cheaper Alternative for Wireless
Bluetooth headphones are one of my favorite devices, but finding a decent pair can sometimes be frustrating. You deserve to not have to be tethered to your phone or laptop! I have tried many different pairs of wireless headphones, but since discovering the Altec Lansing brand, I've never bought any others. They offer many different styles, from earbuds, headphones, even wireless speakers, and some of their devices are even waterproof. Most styles are $30 to $40, but they are often deeply discounted on Amazon. The featured pair is my all time favorite, from talking on the phone, listening to music, or working out.
Easier Storage Options
The best thing since sliced bread, or at least a USB drive, is cloud storage. Gone are the days of trying to keep up with a tiny thumb drive. Most office suites, like Office 365, and even Google allow a basic 5-15 GBs of storage, but if you are in need of more, monthly subscriptions usually start at only a couple bucks for 100 GBs. Another great thing about Microsoft OneDrive, Google Drive, or other cloud storage providers, is the ability to sync all the data on all your devices which allows you to access any of your documents or pictures from anywhere. You can even set up your laptop or phone to back up to the cloud in case anything were to happen to them.
Increase Device Productivity
Docking stations are full of opportunities for increasing productivity and efficiency. They come with variety of different ports they offer. They usually including multiple USB ports, HDMI, VGA, or other extended display ports for the use of another monitor, ethernet ports, and even SD and Micro SD slots. Finding one that is affordable and works with the devices you use is easier than ever now.