CTG Tech announced a program, CTG Cares, that's focused on the continuation of dedicated investments in the community by donating computers and accessories to Mission/Bridges, a local non-profit. Mission/Bridges is focused on bridging the gap for veterans, women, minorities, and ex-offenders by helping them realize the possibilities of success with entrepreneurship and small business endeavors.
Mission/Bridges equips clients with the necessary tools to begin their own businesses by providing classes, workshops, networking opportunities, and more. The devices donated by CTG Cares will enhance Mission/Bridges entrepreneurial training programs, accelerate routine office duties, yearly agency programs, and expand services to their clients. CTG Cares will provide ongoing, monthly donations of computers and accessories to Mission/Bridges as part of a long term relationship.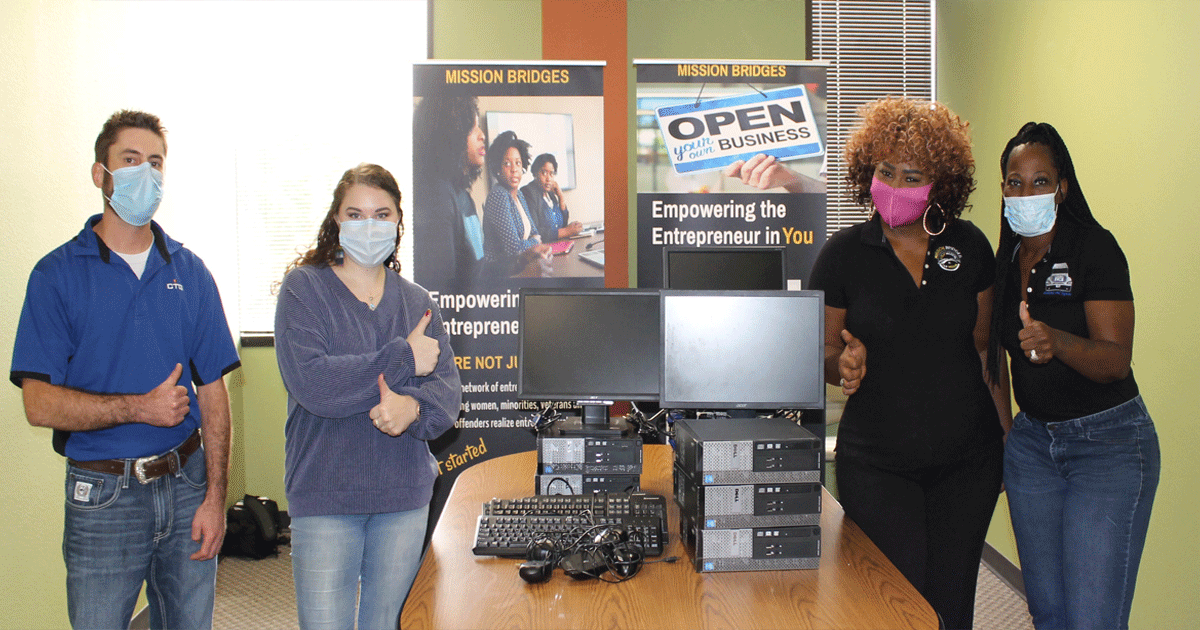 CTG Tech is a local managed service provider that leverages technology to support businesses. They deliver top-tier technology consulting, support, services, and maintenance using cost-effective approaches that help their clients maximize productivity & profitability.
"It can be costly for non-profit organizations like Mission/Bridges to try to supply technology for their services. COVID-19 has proven the importance of technology to businesses, as well as staying connected to each other. "said Patrick Welch, CEO/Owner of CTG Tech. "Our strongest value here at CTG Tech is that we strive to help others, especially when the opportunity arises to help our community."
Mission/Bridges is looking for more volunteers willing to teach classes on business topics, and also accepts financial donations. Visit their Website for more information.
"It is a blessing to receive these impactful donations from CTG Tech," said CeeCee Evans, Executive Director at Mission/Bridges. "They have provided us with the opportunity to expand our educational programs in a way that makes learning interactive and engaging for our future entrepreneurs. We are grateful for the support and commitment CTG Tech makes to Mission/Bridges and to our community."