Last year, The Great Resignation had profound effects on Texas businesses. In fact, Texas had the highest number of employee resignations, and has since been labeled the "job quitting capital." Companies continue to struggle because they don't understand why their employees are leaving.
In 2021, the most common reason employees left their jobs was because of toxic work environments. Workers want to escape companies that lack communication and have disrespectful and unresponsive leadership, among other toxic characteristics.
Other Common Reasons Employees Leave
One third of employees quit after approximately six months, and 30% know within their first week on the job if they intend to stay with a company long term. Some of the most common reasons include:
Lack of work/life balance
Feeling undervalued and disrespected
Doesn't feel like their compensation reflects their skills and value
Lack of raises, recognition and other incentives
Bad managers
Workload and stress
Perceived unfairness among team members
Retaining employees doesn't have to be difficult. Exit interviews can provide many answers regarding the reasons employees leave, which can help the business recognize where changes should be made.
What is Employee Retention?
Employee retention is an organization's ability to keep employees over a specific period of time. A 90% retention rate is considered good. A low retention rate is a good indicator that something is wrong.
Why Does Employee Retention Matter?
Low employee retention can cause significant damage to a business. One of the biggest issues are the expenses associated with employee resignation. Entry-level employees cost a business half of their salary to replace.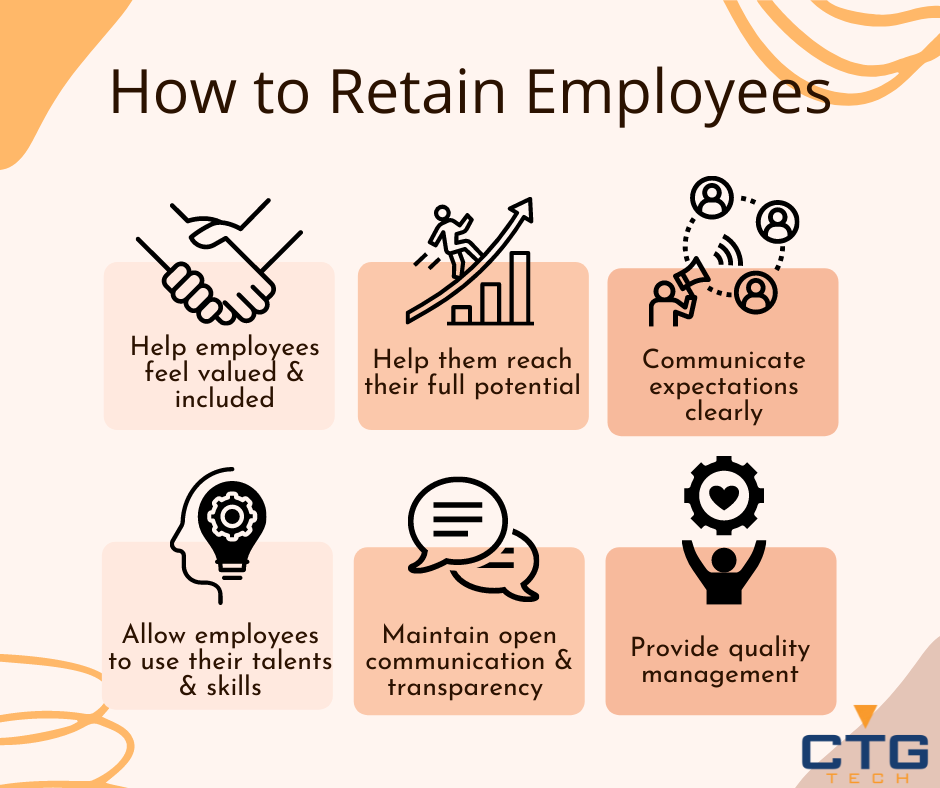 How to Keep Employees
Leaders can make a few adjustments to improve employee retention, such as:
Help employees feel valued and included
Emphasize expectations
Reward team members for going above and beyond
Mentor employees to help them reach their full potential
Have trustworthy leadership
Create and maintain a genuine, honest, supportive and drama-free environment
Provide competitive benefits including compensation and flexibility.
How to Attract Top Talent
For businesses to protect themselves from the Great Resignation, employers need to create a strong employee value proposition (EVP). The EVP should fully deliver on the company's employee-experience promise. This will fuel a culture where everyone can bring their full range of talents, feel valued, and most importantly, do great work.
Today's business landscape is increasingly competitive, and businesses must work hard to retain and attract top talent.