The Need for Remote Security
The flexibility of working from home has provided employees with a variety of benefits, but it has also revealed serious cyber security risks if a remote work environment is not implemented correctly.
Remote employees depend on their home networks and own devices in many cases, which can threaten your business' security. Businesses differ greatly from each other as will their remote work policies, but security is a common factor among all businesses.
These new ways of business have also opened doors for new security threats, which is part of the reason we've seen a huge increase in ransomware attacks. Keeping your business and employees safe, wherever they're working from, is vital.
What is the Purpose of a VPN?
One way to strengthen remote security is by using a VPN. Virtual Private Networks (VPNs) are an essential part of business today because they allow employees to work from home or the office while securely accessing corporate information, sending and receiving data safely over the Internet.
To fully understand the importance of a VPN, you must first understand what information is being collected while you use the internet. Whenever you visit a website, your IP address, device specifications, previously visited sites, and more is visible to the website's owner, but also your ISP (Internet Service Provider). This kind of information can be sold and used by marketers. If your information can be sold, why would you give it away for free?
How does a VPN work?
A VPN provides privacy when using public Internet connections by creating an encrypted connection between two endpoints on different networks through which information passes back and forth securely.
This ensures anonymity as well since it masks one's IP address so others cannot see their location nor which websites they may be visiting during use of this private network. In more simple terms, a VPN allows data to travel through a private tunnel which protects your connection from your home Wi-Fi or a public Wi-Fi connection.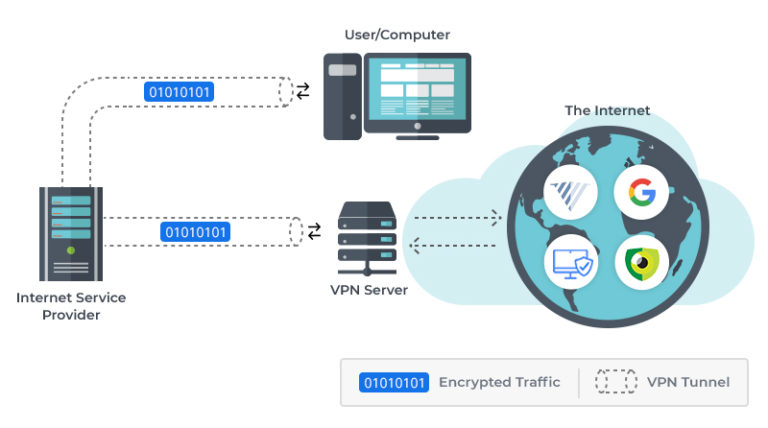 Source: Security Boulevard
Implementing a VPN
VPNs for personal use can be installed on your mobile devices as apps and turned on when needed. Businesses can consult with their IT Service Providers to implement VPNs for your employees. Security experts recommend employees who work remotely take advantage of a virtual private network (VPN), not only to secure themselves, but also protect your business.
If you're looking for help implementing a VPN across your company's network or implementing other security solutions at CTG Tech is here for you!

Free Security Assessment
We offer Free IT Assessments of your network, connect with us today!